Back
28 Aug 2020
"Jockey Club Age-friendly City Project" Online Public Forum - Age-friendly Communication and Information
Explore the importance of communication and information for the elderly and digital inclusion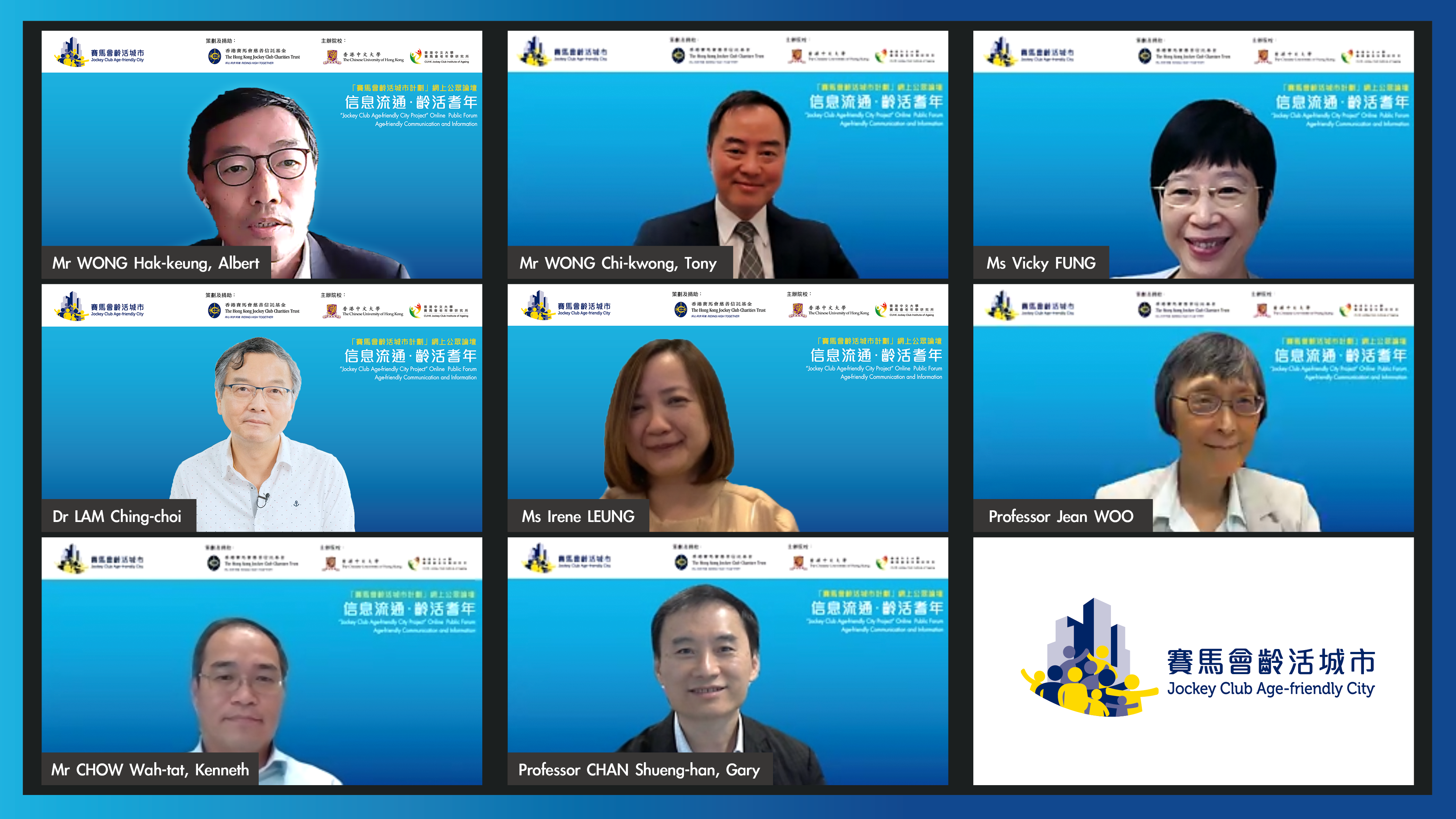 Proper distribution of information to older people in a timely, accessible and affordable manner is important to maintain active ageing.  During the recent outbreak of COVID-19, access to reliable information to keep connected with the community has become a challenge to older people. The CUHK Jockey Club Institute of Ageing organised an online public forum titled "Age-friendly Communication and Information" on 28 August 2020. Over 240 participants from different sectors joined the online forum. Through keynote presentations and panel discussion, the forum aims to explore how digital inclusion can improve the life quality of older people, and how age-friendly ways and platforms of communication and information in Hong Kong can be utilised to help the elderly to stay connected with the society.


At the forum, Ms Irene Leung, Head of Charities (Trust-Initiated Projects Management) of The Hong Kong Jockey Club delivered the opening remarks. Professor Jean Woo, Director of CUHK Jockey Club Institute of Ageing, presented the key findings of the baseline assessment study relating to Communication and Information domain under the Jockey Club Age-friendly City Project and shared the observations from the experiential activity of the General Out-patient Clinics Telephone Appointment System.  Dr Lam Ching-choi, Chairman of Elderly Commission, shared his views on "Age-friendly communication services".


In the panel discussion moderated by Professor Jean Woo, the panelists exchanged views and ideas on how the latest development of digital inclusion and information technology could promote active ageing. Panelists included Mr Tony Wong, Deputy Government Chief Information Officer of the Office of the Government Chief Information Officer; Mr Albert Wong, Chief Executive Officer of Hong Kong Science and Technology Parks Corporation; Professor Gary Chan, Professor of Department of Computer Science and Engineering and Director of Entrepreneurship Center of The Hong Kong University of Science and Technology; Ms Vicky Fung, Senior Health Informatician of Hospital Authority; and Mr Kenneth Chow, Chief Officer (Elderly Service) of HKYWCA Ellen Li District Elderly Community Centre.
Forum Review:

---
Video / PowerPoint Presentation:
Speaker: Dr Lam Ching-choi (Chairman of Elderly Commission)

Title: Age-friendly communication services (in Chinese only)
---
Speaker: Professor Jean Woo (Director of CUHK Jockey Club Institute of Ageing)

Title: Key findings of baseline assessment study relating to Communication and Information domain under the Jockey Club Age-friendly City Project and observations from experiential activity of  the General Out-patient Clinics Telephone Appointment System (in Chinese only)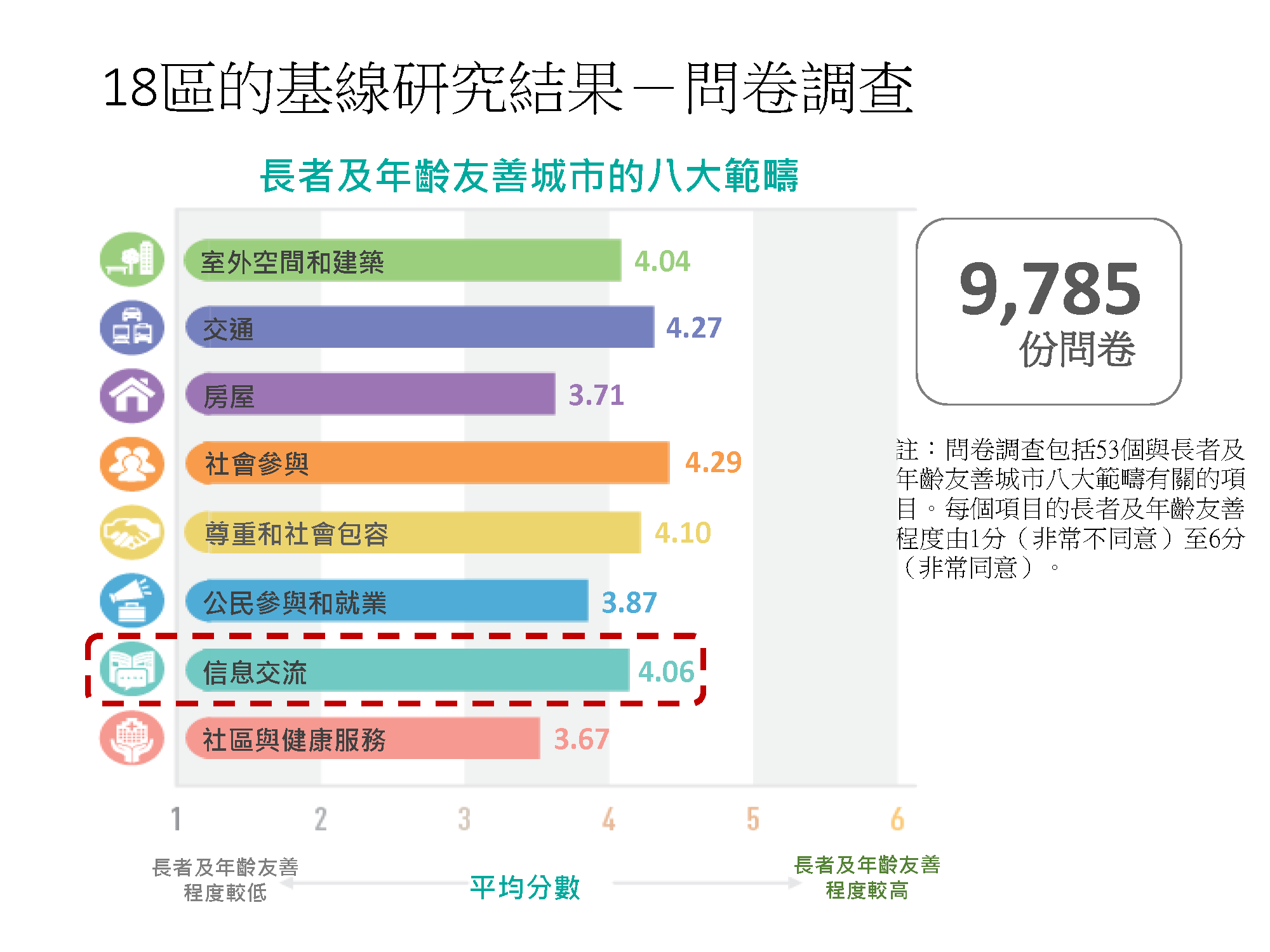 ---
---
---
---
---
---
Information Panels:

(Chinese version only. Click the graphic to enlarge)