Back
17 Jun 2019
Jockey Club Age-friendly City Project Public Forum on Housing Innovations for Ageing-in-Place
With an ageing population, the society has increasing concern over ageing in place. The University of Hong Kong ("HKU") Sau Po Centre on Ageing organised a public forum titled "Housing Innovations for Ageing-in-Place" on 17 June 2019 in HKU.  About 300 participants from different sectors joined the forum. Through keynote presentations and panel discussion, the forum aims to explore the future innovation direction in elderly housing development and provide insightful ideas and suggestions on appropriate home design for elderly people, so as to arouse the sectors' awareness on elderly-friendly housing.  
    
At the forum, Ms Imelda Chan, Head of Charities (Grant Making - Elderly and Family) of The Hong Kong Jockey Club delivered an opening speech and Professor William Hayward, Dean of Faculty of Social Sciences of HKU gave the welcoming remarks. Professor Terry Lum, Head of Department of Social Work and Social Administration and Associate Director of Sau Po Centre on Ageing of HKU shared the public's views on housing services in Hong Kong as reflected in the baseline assessment findings under Jockey Club Age-friendly City Project ("JCAFC Project"). This was followed by the presentations of four keynote speakers, namely Dr Lam Ching-Choi, Chairman of Elderly Commission; Mr James Chan, Deputy CEO of Hong Kong Housing Society; Ms Eleanor Kam, Head of Ageing Innovation of New World Development Company Limited; and Mr Ryan Ip, Head of Land & Housing Research of Our Hong Kong Foundation. They shared their views respectively on innovative housing resolutions for ageing in place, building a friendly living environment for ageing in place, the role of private sector in age-friendly and innovative housing, as well as how innovative housing policy facilitates ageing in place.        
In the panel discussion moderated by Professor Terry Lum, the panelists exchanged views and ideas on age-friendly housing innovations for future Hong Kong. Apart from the aforementioned keynote speakers, other panelists included Mr Alan Cheung, Chairman, Longevity Design House; Mr Ma Kam-Wah, Founding Executive Director, Senior Citizen Home Safety Association; and the elderly representative Ms Cheung Ngan-Sin (Chairlady of Southern Age-friendly and Safe City Group).  
HKU also set up exhibition and activity booths to introduce the JCAFC Project and showcase the home design tailored for older people, with a view to promoting the messages of age-friendly living environment to the community.
Programme Rundown:
Click here
 (Chinese version only)
PowerPoint Presentation:
 (Chinese version only)
Speaker: Professor Terry Lum (Head of Department of Social Work and Social Administration; the Henry G Leong Professor in Social Work and Social Administration; and Associate Director of Sau Po Centre on Ageing of The University of Hong Kong)

Title: Jockey Club Age-friendly City Project baseline assessment findings: Public's views on housing services in Hong Kong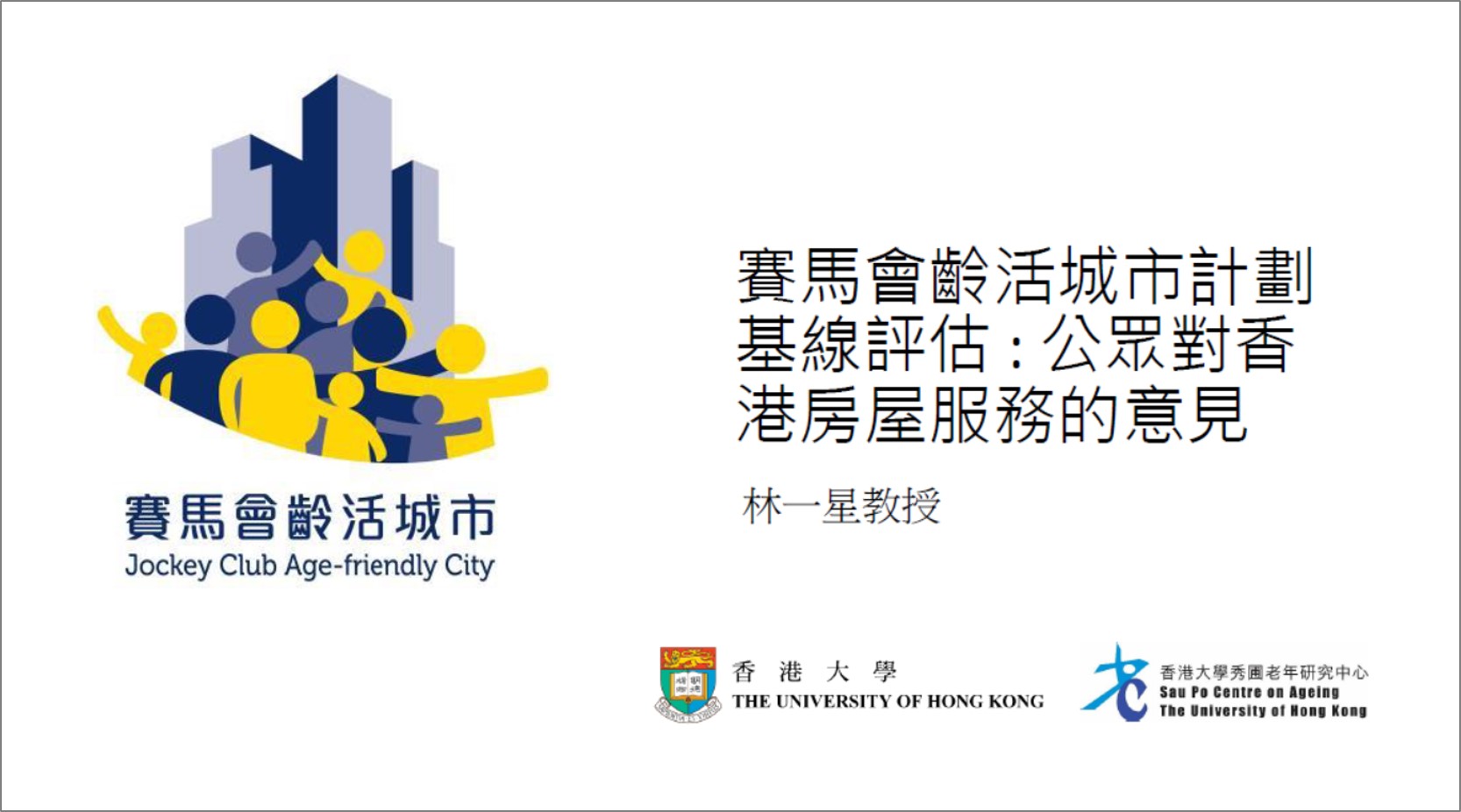 ---
---
---
---
---
Activity Highlight Video (Chinese version only):